The Duffs: Gwen and Lloyd began their camp management experience 10 years before founding Holiday Hill in 1960. Lloyd spent 25 years at UConn in coaching physical education roles. Gwen taught music in Mansfield for 17 years. Together they have realized the dream and satisfaction of contributing toward the development of healthy young people. Gwen passed away April 8, 2013 and Lloyd on November 3rd, 2016. We owe everything to our founders and have memorialized them below.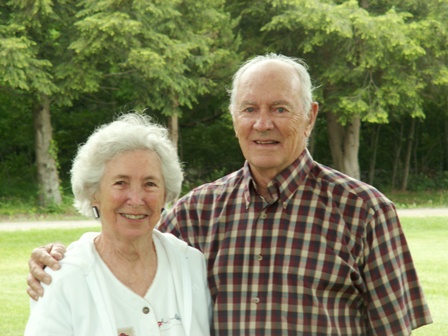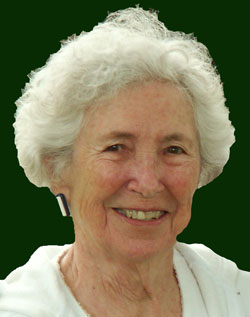 Gwen M. Duff, 87, of Mansfield, beloved wife for 65 years of Lloyd T. Duff, passed away peacefully at home on the morning of April 8, 2013, surrounded by her loving family. Born in Van Wert, Ohio, on January 5, 1926, Gwen was the daughter of Robert T. and Anna Lillian Moore. She attended Muskingum College in New Concord, Ohio, where she majored in music and was homecoming queen. She married Lloyd, her high school sweet-heart, in 1948. They moved to Mansfield in 1954 when Lloyd accepted the position of Coach of Track and Cross-Country at the University of Connecticut. In 1960, Gwen and Lloyd founded Holiday Hill Day Camp
Gwen was an adored music teacher in the Mansfield Public Schools for 19 years. While teaching, she attained her Master of Music degree from UCONN. After her retirement in 1979 she served as a member of the Mansfield Board of Education. Gwen was an accomplished pianist and accompanist for countless ensembles over the years. She was a member of the Storrs Congregational Church for 59 years, where she directed the Youth Choir and was a long-time member of the Adult Choir. She also directed the Mansfield Senior Choir for many years and performed with the choir until this past holiday season. For 69 years, Gwen was a member of P.E.O., a philanthropic organization which focuses on furthering women's educational opportunities.
In addition to her husband Lloyd, Gwen is survived by her three children – Lynn Keehan and fiancé Mark Leu of Prescott, Arizona; Robert and wife Jill Duff of East Greenwich, Rhode Island; and Wendy and husband Dudley Hamlin of Mansfield Center, Connecticut; as well as her cherished grandchildren: Jamie Keehan; Laura and Graham Duff; and Spencer, Haley, and Hunter Hamlin; and a sister, Martha Austin, of Tiffin, Ohio.
More than 300 friends and relatives attended a memorial service celebrating her life, at the Storrs Congregational Church, on the UCONN campus. Donations in Gwen's memory may be made to the American Camp Association Scholarship Fund which will be used to send needy children to Holiday Hill. Please make any donations payable to ACA Campership Program with Gwen Duff Memorial in the memo portion of the check and mail to American Camp Association, 5000 State Rd 67 North, Martinsville, IN 46151-7902.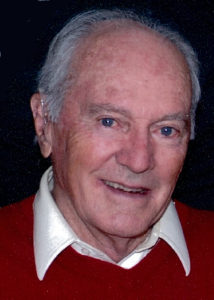 Lloyd T. Duff, 92, passed away peacefully at home in Mansfield Center on November 3, 2016, embraced in the love of family and close friends. He was born on May 7, 1924, the son of the late Edward E. and Alice (Towle) Duff, of Lakewood, OH. He shared 65 blissful years of marriage with Gwen M. Duff, who predeceased him in 2013.
d was an alumnus of Lakewood High School in Lakewood, OH, where he lettered in tennis, basketball and track and is a member of the Athletic Hall of Fame. He then attended Oberlin College where he lettered in football, basketball and track in his freshman year. His education was interrupted, as it was for many young men in 1943, when he enlisted in the U.S. Army. He served with the Field Artillery 98th Division in the Pacific Theatre for the remaining years of WWII. After discharge as a 1st Sergeant, he resumed his education, entering The Ohio State University. While there, his athletic versatility was devoted to the track team. He excelled in the hurdle events, as well as the broad jump and pole vault. The high points of his Ohio State athletic career included: high point scorer for all three years; scored 16 points in the 1947 Big 10 Conference Indoor Championships—more than the totals of several competing teams; Captain of the 1948 squad; All-American status in track and field; awarded the Big 10 Conference Medal for Scholarship and Athletics; and runner-up in the U.S. Decathlon Championships of 1946 and '47. His track career ended abruptly due to a pole vaulting injury just two weeks before the Olympic trials for which he was a favorite in the decathlon to represent the U.S. at the 1948 Olympics. He was enshrined in the Ohio State Athletics Hall of Fame in 2000.
During the 1948 season, he married his high school sweetheart, Gwen Moore. After graduation, they moved to the University of Pittsburgh, where he began his collegiate coaching career. He was assistant track coach for six years at Pitt while also earning a master's degree in education. In 1954 he and Gwen moved the family to Storrs when Lloyd was appointed head coach of UCONN's varsity track and cross country teams. He served in that capacity until 1967, at which time he became head of the newly formed Recreation Department where he expanded intramural activities and the use of athletic facilities for students and faculty—including a ski slope, "Husky Hill." During this time, as a member of the University Senate he initiated a resolution that resulted in University President Homer Babbidge leading a group of thirty college presidents in a meeting with President Richard Nixon to express their concern about the war in Vietnam. In 1977, he became director of the Emergency Medical Services Training Center. Lloyd also served as UCONN's golf coach for three years.
He retired from UCONN in 1979 to devote full-time energy to Holiday Hill Day Camp and Recreation Center in Mansfield. A life-long summer camper, Lloyd had served in positions at several camps in Michigan and Ohio before moving to Connecticut where he was a village director at YMCA Camp Hazen and the camp manager at Silver Lake Conference Center before fulfilling his dream of founding his own camp. In 1960 he and Gwen established Holiday Hill Day Camp and built it into what is now the region's oldest and largest summer day camp serving families from all over eastern Connecticut and beyond.